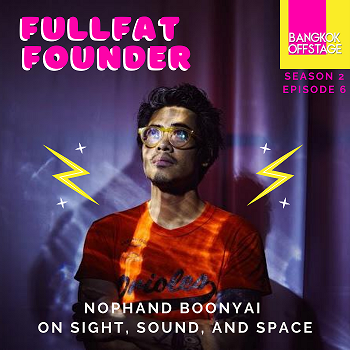 ถ้าพูดถึงกลุ่มละครที่มีความโดดเด่นในการทำงานเชิง site-specific ที่ปรับการแสดงให้เข้ากับพื้นที่ แน่นอนว่าหลายคนจะนึกถึง FULLFAT Theatre ที่แม้ว่าจะก่อตั้งมาได้ 3 ปี แต่ก็มีผลงานที่น่าสนใจมากมาย เช่น "[Co/exist]" ที่แสดงใน Warehouse 30 ตอนที่ยังสร้างไม่เสร็จดี, "Siam Supernatural Tour" ที่พาคนดูไปสำรวจโรงละครสยามพิฆเนศ และล่าสุดกับ "Save For Later" การแสดงชมเดี่ยวที่ทำให้เห็นอีกมุมของห้องอเนกประสงค์ของหอศิลปวัฒนธรรมแห่งกรุงเทพมหานคร ซึ่งเข้ากับการเว้นระยะห่างทางสังคมในช่วงนี้ได้เป็นอย่างดี ในเอพิโสดนี้ เราพูดคุยกับผู้ก่อตั้ง นพพันธ์ บุญใหญ่ ที่เป็นทั้งผู้กำกับ นักแสดง และนักเขียน ถึงมุมมองการทำงาน การเชื่อมโยงศิลปะหลายแขนงเข้าด้วยกัน รวมถึงเสน่ห์ของการแสดงที่ไม่ได้จำกัดอยู่แค่ในโรงละคร

.
Although only three years old, FULLFAT Theatre has already made a name for itself for being the only theatre company in Thailand that focuses on site-specific performances. Some of their most memorable works are "[Co/exist]," which was staged in the multi-purpose venue Warehouse 30 while it was still being renovated, and "Siam Supernatural Tour," which led the audience around the KBank Siam Pic-Ganesha Center of Performing Arts. Most recently, they came out with "Save for Later," a single-audience, physical-distancing performance that took us around parts of the Bangkok Art and Culture Center. We talk to FULLFAT founder and multidisciplinary artist Nophand Boonyai about his approach to performance, the intersection of his crafts, and the charm of creating performances in non-traditional performance spaces.
.
Intro: Bilingual
.
เอพิโสดนี้เป็นภาษาไทย / This episode is in Thai. Excerpts of the interview in English will be available soon on our website.
.
ติดตาม / Follow
www.bangkokoffstage.com
.
Photo courtesy of Nattawat Tangthanakitroj and Pannatat Aengchuan