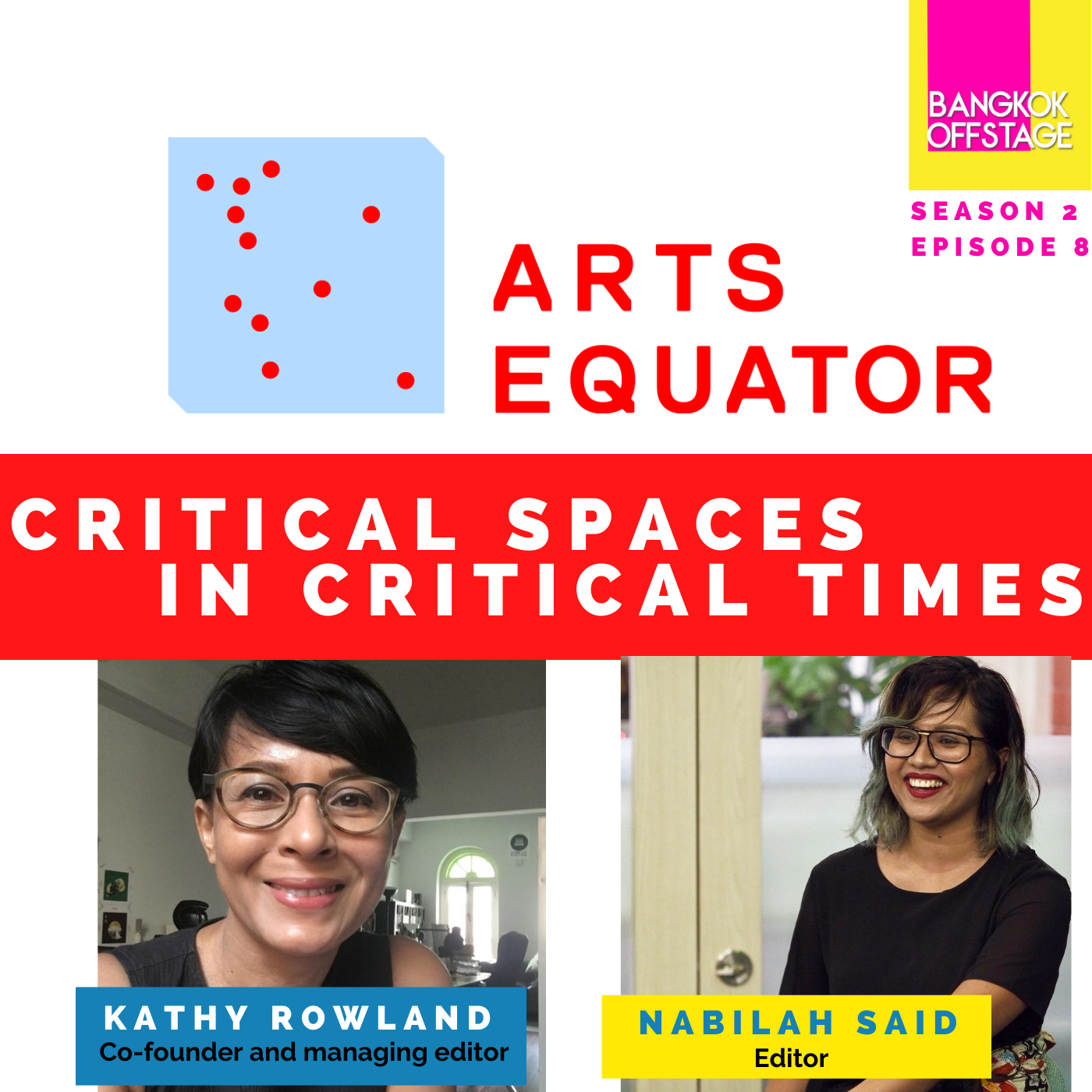 In this episode, we turn our attention to the people in arts media and how they've been affected by the pandemic. ArtsEquator is a digital media platform founded in Singapore in 2016 that covers the arts in Southeast Asia. After being denied a further government grant due to the economic impact of Covid, ArtsEquator launched a campaign called Project Ctrl+S ArtsEquator to raise money to be able to continue operation.
.
We speak to co-founder and managing editor Kathy Rowland and editor Nabilah Said about ArtsEquator's current situation, what it's like to run a digital media platform about the arts, and the place of critics in the arts ecosystem.
.
ในเอพิโสดนี้ เรามาพูดคุยกับคนในวงการสื่อศิลปวัฒนธรรมที่ได้รับผลกระทบจากโควิด-19 อย่าง ArtsEquator ซึ่งเป็นสื่อออนไลน์เกี่ยวกับศิลปะแขนงต่างๆ​ ในภูมิภาคเอเชียตะวันออกเฉียงใตั ที่ก่อตั้งเมื่อปี 2016 ในประเทศสิงคโปร์ โดยล่าสุดทีมงานได้จัดแคมเปญระดมทุน Project Ctrl+S ArtsEquator เพื่อที่จะต่อชีวิตสื่อออนไลน์ด้านศิลปะนี้ต่อไป
.
เราได้พูดคุยกับผู้ร่วมก่อตั้งและบรรณาธิการบริหาร Kathy Rowland และ บรรณาธิการ Nabilah Said เกี่ยวกับสถานการณ์ปัจจุบันของ ArtsEquator การก่อตั้งและบริหารเว็บไซต์ด้านศิลปะ และตอบคำถามที่ว่านักวิจารณ์มีตัวตนอยู่จุดไหนในอีโคซิสเต็มทางศิลปะ
.

Project Ctrl+S ArtsEquator:
https://www.giving.sg/artsequator-ltd-/ctrl_s_artsequator 
.
Intro: Bilingual
This episode is in English. The Thai translation will be available soon on our website.
เอพิโสดนี้เป็นภาษาอังกฤษ สามารถอ่านคำแปลโดยย่อเป็นภาษาไทยได้บนเว็บไซต์ของเราเร็ว ๆ นี้
.
ติดตาม / Follow 
www.bangkokoffstage.com